In today's tutorial I'll be demonstrating how you can create looped logo text using Adobe Illustrator CC.  The basic outline of the steps taken are depicted below, but feel free to skip to the end of the post for the video tutorial with step-by-step instructions and voice narration.
Step 1: Arranging The Circles
The first thing we're going to do is create a series of circles with no fill, but a black 10 pt stroke, ranging in size from 200 pixels to 400 pixels. The size of the circles will vary in 50 pixel increments, so there will be 5 circles in total.
After that, we'll outline the strokes, cut them in half, then stack them on top of each other.
Logo Design Guide


Curious about the creative process that inspires me to come up with design ideas and how I go about executing them? Be sure to check out my logo design guide for a look behind the scenes at my systematic approach to coming up with design ideas.
Step 2: Connecting The Circle Pieces
Once that's done, we'll be attaching each segment of half-circles together to create 4 sections for each letter of the word "logo". Be sure to create an additional copy of half-circles for the bottom of the letter G.
Step 3: Creating The Straight Segments of The Letters
Once we have the base of the letters in shape, we'll be using the Pen Tool to create the straight line portions that connect the bottom of the letter G to the top of it, then we'll duplicate those segments and use them for the straight portion of the letter L.
150+ Logo Templates

Need a professional logo but have a limited budget? Or are you a designer looking to add to your inventory of design elements? Check out my bundle of 150+ high quality logo templates, all designed by Yours Truly.
Step 4: Eliminating Unwanted Areas
The final step would be to use the Shape Builder Tool to delete the unwanted intersecting areas so we can create the illusion that the letters are looping around and going over and under each other.
And once that's done, out design will be complete. You can now color it in and style it however you'd like.
Video Tutorial
For complete step by step instructions with voice narration, check the video tutorial below and feel free to leave a comment if you have any questions or run into any problems.
Become A Freelance Designer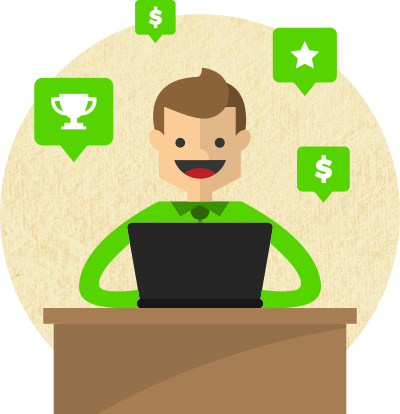 Ready to start earning money with your design skills? Check out my freelancing guide to learn how you can get hired for freelance design projects, even if you have no experience or formal education!