In this week's tutorial I'll be demonstrating how you can create these sleek, simple letter logos that appear as if they're make of connecting parts, using Adobe Illustrator CC. Here's an example of what can be created using this technique…
This tutorial is very beginner-friendly in that a few simple steps is all it takes to make a really nice looking design. The example I'll be using is the letter P, but the technique used is simple enough that you should be able to easily implement it with whatever other letters or numbers you'd like to create. Certain letters and numbers may be a little tricky (S, R, 2, etc.), but with a bit of ingenuity and creative thinking, you should be able to make it work.
Logo Design Guide


Curious about the creative process that inspires me to come up with design ideas and how I go about executing them? Be sure to check out my logo design guide for a look behind the scenes at my systematic approach to coming up with design ideas.
Creating Letter Logos
In the first steps, we'll be creating a series of circles and working with the Shape Builder Tool to eliminate unwanted areas. Then, we'll be using a rectangle with rounded corners for the tail of the P.
Once that's completed, the basic structure of the design will be in place and we can color it in using a linear gradient. We'll also be creating another circle and using it as a reference point for simulating a shadow within the curvature of the letter. This helps in selling the aspect of the letter being made of separate, but connecting/overlapping parts.
150+ Logo Templates

Need a professional logo but have a limited budget? Or are you a designer looking to add to your inventory of design elements? Check out my bundle of 150+ high quality logo templates, all designed by Yours Truly.
After that, our design will be complete! Here's how the refined design looks after some finishing touches and once applied to a background with a contrasting color…
Video Tutorial
For complete step-by-step instructions with voice narration, watch the video tutorial below, and don't hesitate to leave a comment if you have any questions or run into any problems. As always, thanks for watching!
Become A Freelance Designer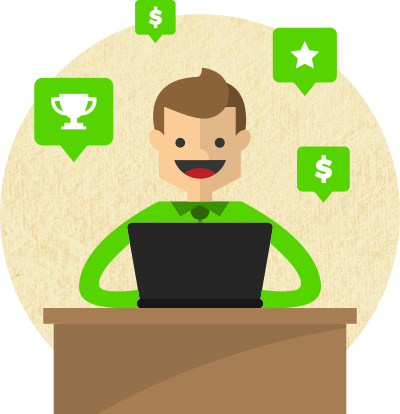 Ready to start earning money with your design skills? Check out my freelancing guide to learn how you can get hired for freelance design projects, even if you have no experience or formal education!