This week we'll be going over a retro typography tutorial with Illustrator. Take your bland, boring text and give it some groovy retro vibes.
In the first part of the post I'm going to briefly outline the steps taken to achieve this effect. The video tutorial with step-by-step explanation and voice narration will be at the end. Let's get started.
Retro Typography Tutorial with Illustrator
As you would imagine, we're going to start off with a simple letter A and add some strokes and accent pieces, colored in according to a retro palette. We'll also be simulating a 3D block letter sort of look.
Logo Design Guide


Curious about the creative process that inspires me to come up with design ideas and how I go about executing them? Be sure to check out my logo design guide for a look behind the scenes at my systematic approach to coming up with design ideas.
The font being used is Montserrat Bold. Be sure to download and install this font if you don't already have it, then restart Illustrator.
Next, we're going to add our makeshift light shine effect, then then shear it vertically ever so slightly.
150+ Logo Templates

Need a professional logo but have a limited budget? Or are you a designer looking to add to your inventory of design elements? Check out my bundle of 150+ high quality logo templates, all designed by Yours Truly.
This tutorial will introduce you to the Blend Tool in Illustrator.
Adding Texture
The final step would be to add a worn out grunge texture in order to reinforce the aged, vintage sort of look. We'll be using the masking option within Illustrator to achieve this. Here's the image we'll be using. Copy it and paste it onto your artboard…
Once we've applied the texture as a mask, our retro typography tutorial with Illustrator will be complete!
Video Tutorial
If the aforementioned steps are a bit too advanced for your current understanding of the software, I would advise checking out the video tutorial below. The video contains step-by-step instructions with voice narration, that even a first-time user of Adobe Illustrator could follow along with.
Give it a try, and if you have any questions or run into any problems be sure to leave a comment below, and don't forget to check out last week's Illustrator beginner tutorials. Enjoy!
Become A Freelance Designer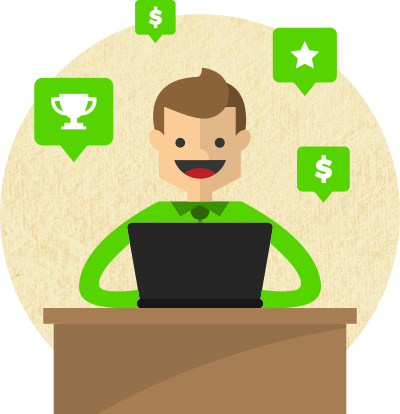 Ready to start earning money with your design skills? Check out my freelancing guide to learn how you can get hired for freelance design projects, even if you have no experience or formal education!