In today's tutorial I'll be demonstrating how you can create vector text with a glitch effect using Adobe Illustrator CC.
The following is a brief outline of the steps taken to achieve this effect. For complete step-by-step instructions, watch the video tutorial at the bottom of the post.
Glitch Effect
First we're going to start out with some text using the 8 Bit font, which can be downloaded for free here: https://www.dafont.com/8bit-wonder.font. Make sure to put a fair amount of spacing between the letters, as depicted below…
Logo Design Guide


Curious about the creative process that inspires me to come up with design ideas and how I go about executing them? Be sure to check out my logo design guide for a look behind the scenes at my systematic approach to coming up with design ideas.
Next, we're going to create some rectangles that will be used as reference points for breaking up the text.
We'll then unify each row of shapes horizontally and randomly shift them left and right.
150+ Logo Templates

Need a professional logo but have a limited budget? Or are you a designer looking to add to your inventory of design elements? Check out my bundle of 150+ high quality logo templates, all designed by Yours Truly.
Next we will create a couple of duplicate copies and make one blue and the other pink, lower them beneath the original black text, and shift them left and right respectively.
The final step is to bring the letters back together by decreasing the space between them.
If you'd like, you can also add a shear to the design, which I think helps to emphasize the glitching aspect.
And with that, we are finished. Our glitch text effect is complete.
As you can see, I made the text white and added a dark background on mine, but you can style yours however you'd like.
Video Tutorial
For complete step-by-step instructions with voice narration, watch the following video tutorial. Everything is spelled out so that even a first-time user of Illustrator could follow along.
If you have any questions leave a comment below, and as always, thanks for watching!
Become A Freelance Designer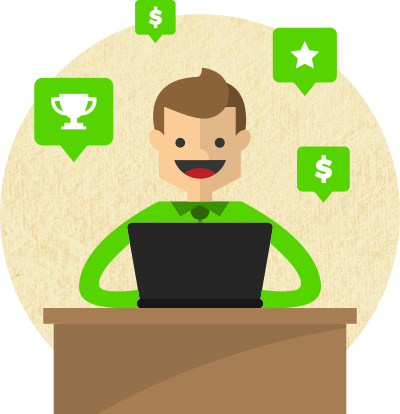 Ready to start earning money with your design skills? Check out my freelancing guide to learn how you can get hired for freelance design projects, even if you have no experience or formal education!